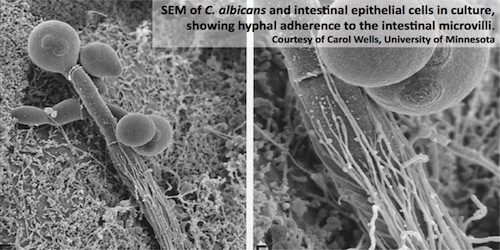 About CGD
This is the home of the Candida Genome Database, a resource for genomic sequence data and gene and protein information for Candida albicans and related species. CGD is based on the Saccharomyces Genome Database and is funded by the National Institute of Dental & Craniofacial Research at the US National Institutes of Health.
Meetings & Courses
Immunology of Fungal Infections - Gordon Research Seminar
Galveston, Texas, USA
January 12 - 13, 2019; Applications due by December 15, 2018


30th Fungal Genetics Conference
Asilomar Conference Grounds, Pacific Grove, California, USA
March 12- 17, 2019; Abstract submission opens after October 29, 2018


TAGC 2020 - The Allied Genetics Conference
Metro Washington D.C., USA
April 22 - 26, 2020


New and Noteworthy
---
---
Candida glabrata MLST database accepting submissions
Candida glabrata Multi Locus Sequence Typing (MLST) database at PubMLST.org is accepting submissions again. As of August 2018, the C. glabrata MLST database hosted at pubmlst.org has re-opened its submission pipeline. They welcome submissions of new alleles and sequence types as well as isolate data from ongoing or published studies. Also the submission of genome data is possible to place them into the phylogenetic context of the current MLST scheme.

Please visit pubmlst.org/cglabrata for more information.
(Posted August 27, 2018)
---
CGD Curation News
---
C. lusitaniae strain CBS 6936 sequence and BLAST datasets now available at CGD
The sequence and annotation of C. lusitaniae strain CBS 6936, described in Durrens et al. (2017), has been made available at CGD. We provide downloads for sequences, chromosomal features, gff files and protein domain predictions. In addition, C. lusitaniae CBS 6936 is included among the datasets searchable by our multi-species BLAST tool. The sequence and annotation were obtained by CGD from NCBI.
(Posted February 27, 2018)
---
JBrowse Conservation Tracks
CGD has added tracks in JBrowse showing the evolutionary conservation of genomic features for C. albicans SC5314, C. glabrata CBS138, C. dubliniensis CD36, and C. parapsilosis CDC317. Conservation is shown in four optional quantitative tracks, representing increasing levels of evolutionary diversity. In general, the top level (derived from an alignment of 3 closely related species) will show the highest levels of conservation, and include intergenic regions, while the lowest level (derived from an alignment of 12 distantly-related budding yeasts) will show the least conservation, and include only the most highly-conserved genes and features. Conservation scores were produced with the phyloP program (Siepel et al, 2005), based on whole-genome alignments produced by the program TBA (Blanchette et al, 2004).

Conservation scores and their underlying alignments and phylogenetic models are available for download in the CGD downloads directory. Please see our JBrowse Help Page for more information about JBrowse at CGD.
(Posted December 20, 2017)
---
Introducing JBrowse for CGD
CGD has implemented JBrowse, the fast, intuitive, and customizable genome browser developed by the Generic Model Organism Database project (GMOD). JBrowse allows users to quickly view large-scale sequence data in a genomic context, at multiple zoom-levels of resolution, from base pairs in individual sequence reads to read-density summaries across large genomic regions. Initially, we have loaded the following datasets:

Gene expression in C. albicans in a variety of experimental conditions from Bruno et al, 2010
Gene expression in C. glabrata in a variety of experimental conditions from Linde, Duggan et al, 2015
High-throughput genomic sequence of C. albicans SC5314 from Muzzey et al, 2013, that was the basis of Assembly 22

We will be adding additional high-throughput datasets in the coming months.

JBrowse can be launched from any CGD feature's Locus Summary Page by clicking on the JBrowse logo about halfway down the page:

The JBrowse window will be centered upon that feature.

Alternately, mouse-over "JBrowse" on the top menu bar of any CGD page, then select and click your organism of interest in the drop-down menu. The browser window will be centered on an arbitrary location of the genome.

Please see our JBrowse Help Page for more details.
(Posted September 29, 2016)
---
Correction of chromosome 3 haplotype information for C. albicans SC5314 Assembly 22
We have corrected the haplotype assignments on chromosome 3 of C. albicans SC5314, based on comparisons of haplotype data (Legrand et al, 2008; Berman and Forche, 2016) with sequence data (Muzzey et al, 2013) for both the wild-type diploid strain and the strain RBY10-10, which is homozygous for chromosome 3A. This analysis supported the exchange of approximately 845 kbp between chromosome 3A and chromosome 3B of Assembly 22 at CGD, including the entire left arm of the chromosome, and a portion of the right arm extending from CEN3 to within the coding sequence of the gene C3_04040W (orf19.2804). This results in sequence and gene model boundary changes for most chromosome 3 features. (Posted June 22, 2016)
---
EnsemblFungi gene annotations for Candida strains not curated by CGD
We now provide links on CGD Homology Pages and CGD Multi-Genome BLAST results pages to gene annotations from EnsemblFungi for the seven Candida-related strains for which we provide sequence and gene model downloads, but do not actively curate: C. albicans WO-1, C. guilliermondii ATCC 6260, C. lusitaniae ATCC 42720, C. orthopsilosis Co 90-125, C. tropicalis MYA-3404, D. hansenii CBS767 and L. elongisporus NRLL YB-4239. These replace the links to annotations formerly provided by the Broad Institute Fungal Genome Initiative, which are no longer supported. (Posted June 6, 2016)
---
Major update of the C. albicans genome sequence at CGD
We have released a major sequence update for C. albicans SC5314 (Assembly 22, version s06-m01-r01). Based on reanalysis by CGD of all available sequence data, the update affects more than 300 features, correcting many ORF translation errors and resolving many sequence ambiguities. The specific sequence changes can be viewed on our Chromosome History pages. (Posted February 2, 2016)
---
Updates to C. glabrata genome annotation
Multiple C. glabrata gene models were updated based on gene expression analysis conducted by Linde et al. (2015). 4,994 features were affected: 107 new features were added, including 49 protein-coding genes and 58 non-coding RNAs; 4 ORFs were deleted; the sequences for 132 features were extended and 10 shortened; 15 features were split to create 35 new features; 2 features were merged to create 1 new feature; 4,819 5-prime UTRs and 4,828 3-prime UTRs were added; The intron/exon structure was modified for 60 features; splice variants were identified for 16 features. For a list of updates, see Supplementary Table. (Posted April 15, 2015)
---
Assembly 22 of the C. albicans genome sequence
We are pleased to announce that Assembly 22 of the C. albicans SC5314 genome sequence has now become available at CGD, fully integrated into the CGD environment. Assembly 22 (A22) is described in Muzzey D., et al. (2013) Assembly of a phased, diploid Candida albicans genome facilitates allele-specific measurements and provides a simple model for repeat and indel structure. Genome Biol. 2013 Sep 11;14(9):R97.

Taking advantage of next-generation sequencing and achieving nearly 700-fold coverage, this phased, diploid assembly permits more sensitive, allele-specific analysis of the genome structure and funcion. A22 supersedes the previous Assembly 21 as the default genome sequence for C. albicans SC5314. All the previous assemblies remain available at CGD's download pages. (Posted June 27, 2014)
---
Introducing GeneXplorer for CGD
We have implemented GeneXplorer, a web tool for browsing and analysis of expression datasets and, so far, we have added microarray datasets from over 30 publications already archived at CGD. Each of those publication is linked via an icon to a GeneXplorer-generated web page that shows a colorimetric image of the clustered expression profiles. These images are zoomable and clickable (click on any profile to see the expression patterns of the most similarly or dissimilarly expressed genes). The publications are also linked (via ) to a downloadable data file in the pcl format. We are focusing our efforts on the microarray datasets and more publications are added to GeneXplorer every week. (Posted March 11, 2014)
---
Archived News
Click here to view archived news items.
CGD Copyright © 2004-2018 The Board of Trustees, Leland Stanford Junior University.
Permission to use the information contained in this database was given by the researchers/institutes who contributed or published the information. Users of the database are solely responsible for compliance with any copyright restrictions, including those applying to the author abstracts. Documents from this server are provided "AS-IS" without any warranty, expressed or implied.
To cite CGD, please use the following
reference
: Skrzypek MS, Binkley J, Binkley G, Miyasato SR, Simison M, Sherlock G (2017). The Candida Genome Database (CGD): incorporation of Assembly 22, systematic identifiers and visualization of high throughput sequencing data.
Nucleic Acids Res
45
(D1); D592-D596; see
How to cite CGD.